Class B VIP Model Mini Bus
The ultimate in passenger comfort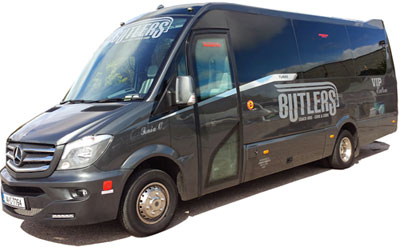 Class B VIP Model Mini Bus - Interior view

Class B VIP Model Mini Bus Captain seats

Class B VIP Model Mini Bus
Extra luggage space

Class B VIP Model Mini Bus
9 extra wide seats
Extra Legroom
4 Tables - Extra Luggage Space
VIP Extra Comfort
9 Armchair comfort leather Seats
Ideal for up to 9 touring passengers with luggage

Ultimate comfort for up to 8 golfers with luggage/clubs

Extra wide seats - Extra wide dual arm rests - Extra recline

Extra Legroom

Extra tables (4 x tables)

Extra luggage space

Extra cooler boxes

Electrical sockets for laptop, phone chargers, etc.

Wifi available on request (Subject to availability) *

Fully Air-Conditioned front to back

CD - DVD Player with 2 screens - P.A System

* We will provide you with a free "prepay" mobile broadband modem/s. (credit not included)
Available in the Republic of Ireland only.